We continue our series on how Santa Fe is following the New Mexico Health Orders and continuing to open for those wishing to enjoy "the city different". In our first blog we shared information on Canyon Road and the beautiful galleries and sculpture gardens that have opened. Read our blog here to find out more.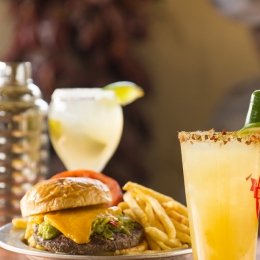 This week we continue to share more, including that restaurants are opening and what's happening in the downtown Santa Fe plaza area. Restaurants are open with the following guidelines: 6' spacing between tables, no more than 5 to a table, masks required for entry until seated at your table, and operating at a maximum of 75% capacity. Our restaurant, Del Charro, is happy to serve you our signature margaritas and Southwestern cuisine from 11:30am-10pm daily.
Restaurant outdoor dining is a lovely way to enjoy Santa Fe's beautiful weather. I enjoy The Tea House on Canyon Road for their beautiful patio and my favorite vegan wrap with a glass of Italian wine. Their menu will be sure to please all who dine here. Here are some of the other patios that are available for dining at this time: The Shed, La Boca, Sassella, Sage Bakehouse, Rooftop Pizzeria, Coyote Cantina, Restaurant Martin, and El Farol. This list of course, doesn't include every patio in Santa Fe, and we encourage you to check your favorites to see if they are open before arriving.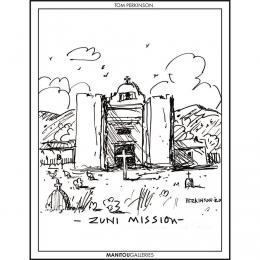 I spent the day wandering the plaza area and checking with our local galleries and shops to see who might be open and who might be by appointment only. I found that 50% of the galleries are open with limited hours and the remaining are by appointment only. For those that were open, they are so happy to be able to represent their artists to those who are visiting. Stop by these galleries who are open for walk-ins starting around 10am: Manitou Galleries, Gallerie Zuger, Sorrel Sky, El Nicho, Inc., and many others that are opening closer to noon. I recommend following them on Facebook or Instagram to stay current with their shows and virtual openings.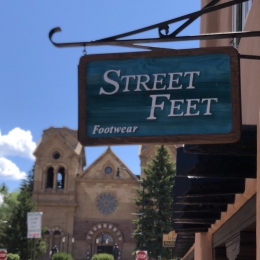 Downtown Santa Fe also offers specialty clothing and gift stores, as well. Here's a few that are open and locally owned for you to visit: Wear Your Grace, Ortega's On the Plaza, Artful Tea, Toyopolis, Street Feet, Goler, Tom Taylor, Red River Mercantile, and Chocolate and Cashmere.
These lists don't include many others that are open and waiting to welcome you to Santa Fe. Please share with me your favorites that might not be listed here, and I will be happy to add them.
I look forward to sharing more as I spend time enjoying our beautiful, unique city. We wish you and yours good health and safe travels.
Deb Swanson, Director of Sales and Marketing