Santa Fe History & Facts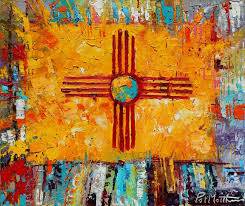 Santa Fe has a rich history and culture that makes it one of the most diverse and interesting places to visit. Santa Fe is known as the "City Different" in the Land of Enchantment. We know that you will enjoy visiting the many attractions that Santa Fe has to offer. Because Inn of the Governors is situated in the heart of the city, you will easily find most activities, shopping and restaurants within walking distance of our downtown Santa Fe hotel.
We have provided many details about Santa Fe, and encourage you to use Guest Services to help you best plan your trip.
Santa Fe History
1050-1607 – Santa Fe occupied by Pueblo Indian Villages.
1540 – First claimed "Kingdom of New Mexico" for Spain by conquistador Don Francisco Vasques de Coronado.
1598 – Don Juan de Onate became first Governor-General of New Mexico
1609 – Don Pedro de Peralta appointed second Governor-General of New Mexico and moved the capital to present day Santa Fe.
1607-1692 – Spanish soldiers and Franciscan missionaries tried to conquer and convert the Pueblo Indians. This resulted in an Indian revolt and most buildings were burned, except the Palace of the Governors.
1692-1821 – Santa Fe grew as a prosperous city.
1821-1846 – Santa Fe became the capital of the province of New Mexico, owned by Mexico, which gained independence from Spain.
1851 – Santa Fe underwent an economic revolution and the construction of St. Francis Cathedral began.
1848 – Mexico signed the Treaty of Guadalupe Hidalgo, giving New Mexico and California to the United States.
Santa Fe Fun Facts
Oldest Government Seat in the United States
Oldest Church in the United States
Oldest House in the United States
Elevation 7000 ft. above sea level
"City of Holy Faith" otherwise known as "The City Different"
310 days of Sunlight Yearly
State Question: Red or Green? (Refers to Chile) Or, maybe Christmas.
State Nickname: Land of Enchantment
State Cookie: Biscochito (recipe)
State Bird: Greater Roadrunner
Santa Fe Accolades
#1 Best Shopping Destination in the West by Sunset 2016
#4 Best Food Town in the West by Sunset 2016
#4 Best Cities in the United States by Travel and Leisure 2016
#2 Best Small City in the United States by Conde Nast Reader's Choice 2015
#6 Best Small City Amongst World Cities by Conde Nast Reader's Choice 2015
2014 Top Treks for your Family by Trekaroo
#2 Cleanest Air by American Lung Association 2013
Destinations on the Rise TripAdvisor 2013 Travelers' Choice Winner
#3 for Visitor Experience from Travel and Leisure 2013
5th Most Romantic City by Livability.com 2013
#1 Cultural Getaway from Travel and Leisure 2012
Things to See and Do in Santa Fe!
Sign up for our eNewsletter and also be the first to hear about special promotions.