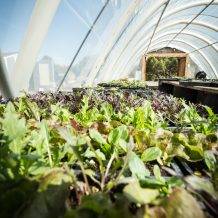 Arroyo Vino roughly translates to a "a ditch or wash of wine." Metaphorically it refers to a full, flowing selection of wines, which appropriately describes Arroyo Vino's collection of fine wines from all over the world. Located out in the Las Campanas subdivision, the restaurant boasts a true farm to table experience – using produce and herbs grown in their very own garden. At the celebration dinner for their selection as "Best Restaurant of Santa Fe" by the Santa Fe Reporter, Chef Colin Shane explained how each day's specials are driven by what produce is ready in the garden versus choosing a special and then searching for ingredients. Of course this practice is seasonal, but it speaks to the restaurant's dedication to the celebrating the power of fresh, thoughtfully harvested ingredients.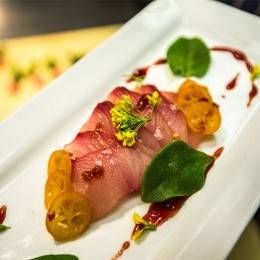 I was fortunate enough to dine there with my in-laws a bit back, hoping to experience this concept myself. The entire table resoundingly celebrated the evening. We dined on fried brussel sprouts and the cheese plate to start while sipping on a Brut Rose' from Cremant d'Alsace. Though the appetizer choices included celery root chowder, braised Duroc pork belly, and roasted beet & Seckel pear salad, we all savored the petite garden greens – pistachios, chevre, dried mission figs, and white balsamic vinaigrette. Choosing the entrée was difficult between the sumptuous choices and the poetic descriptions our attentive and knowledgeable server offered. Should it be the Maine lobster tail with fennel barigoule, fuyu persimmons or the dry aged Peking duck breast coupled with charred radicchio, pomegranate, celery root mousse, Asian pears, citrus glaze, and spiced walnuts? In the end we enjoyed the New Zealand, Cervena Venison tenderloin surrounded in cocoa nib, roasted root vegetables, wild mushrooms, mustard greens, parsnip, and juniper jus and the slow roasted kabocha squash melded with brussel sprouts, ras el hanout, Greek yogurt, Moroccan granola, and cider sabayon. As with any delicious meal, we started sharing back and forth, describing the flavors and comparing each of our favorite elements. Our wine steward chose a wonderful Pinot Noir from Shea Wine Cellars in the Willamette Valley, Oregon to work agreeably with each of our respective dishes (which it did admirably). Arroyo Vino's website keeps the menu easily accessible on the home page.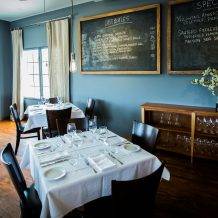 The food itself was somehow simple and complex simultaneously -oranges, reds, greens, brightening the table; myriad seasonings peaked your palate, leading it one direction only to turn you softly in a whole new direction. All of this happening in carefully appointed setting – colorful art placed throughout the room of soft wooden hues. Naturally a place so focused on a farm to table experience has multiple vegetarian options and can accommodate dietary needs readily with some advanced warning. The majority of dishes are already gluten free.
Though Arroyo Vino is located outside of Santa Fe (about 20 minutes from Inn of the Governors), the drive is well worth it, especially when they have been voted in the top 100 restaurants in America on OpenTable. To make reservations call 505 983 2100 or email info@arroyovino.com.
Until next time, Buen Provecho! SamG of IOG