There are many fun things to do in the mountains of Santa Fe. Just a short 20-30 minute drive takes you to the pristine, snow-capped mountains… starting around an elevation of 9500 feet and reaching 12, 631 feet on top of Santa Fe Baldy! We thought we would share some personal experiences in the outdoors and hope that you and yours will create your own special memories this winter, as well.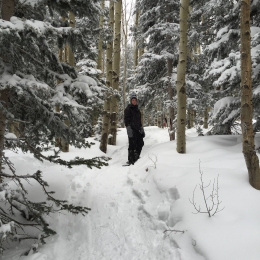 Deb Swanson, our Director of Sales and Marketing loves to snowshoe. She's been wading through snow drifts and skimming the trails for a few years now and wanted to share a fond memory with her nephew for this blog. "A few years ago, I had family visiting from Florida and it was my nephew's birthday, as well. He had never been snowshoeing and was very excited to be able to spend his day up on the mountain and to experience this new adventure with his aunt. No one else cared to venture up with us as it was overcast and a bit windy, but we were well prepared, stocked with goodies and fine to go it alone. What an amazing day! After renting snowshoes and poles (highly recommend having poles) for him, we were ready for the 20-30 minute ride to our starting point. We parked at Aspen Vista and readied ourselves for the journey up to where we could see the Quad Ski Lift. This trail is immediately to the left – inside of the gate and is called the Alamos Vista trail. It had recently snowed and the powder was perfect. We stayed on trail for the most part, but ventured to the edge of the mountain a few times to get the perfect photo. At Carl's meadow we plopped into the snow and made snow angels. Try getting back up when the powder is 6-8 inches thick! It can be quite the endeavor. It took us about an hour and a half to get to the very top and we could see the skiers getting off of the quad lift and heading down to Ski Santa Fe. Our time frame included stopping and catching our breath and of course, taking beautiful photos. And, since it is always easier coming back down; it only took us about an hour. So, for a little less than 3 hours on the mountain, we got an excellent work out and breathtaking photographs to share with everyone. All in all, it was an amazing 19th birthday for my nephew and a wonderful experience for me to share with him." A few years ago, she also shared this blog with Outspire Hiking and Snowshoeing and this one that includes Big Tesuque and Aspen Vista.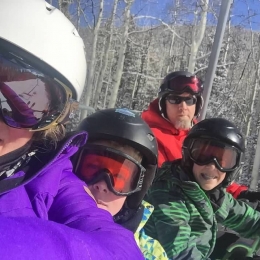 Lisa McCabe, our Director of Revenue, loves to go skiing at Ski Santa Fe with her family. We asked her to share her experience, too. "Skiing at Ski Santa Fe has gotten off to a great start! They've had 49" of snow so far with more on the way. One of my favorite things about skiing at Ski Santa Fe is how family friendly it is. My husband and I have been skiing with our sons there for the past 3 years and we always have a wonderful time. Santa Fe gets almost 300 days of sun per year, so ski days are generally incredible. Gorgeous blue skies, glistening snow and outdoor exercise – just what the family needs. The ski area offers lessons for all, but has an especially welcoming kid's area called Chipmunk Corner. It is super easy to drop the kids off for a day of learning while the adults enjoy more adventurous terrain. Now that my kids are getting better, we ski together. There is a small adventure park for kids of all ages to ski among the trees. We generally enjoy lunch or a beverage in the lodge or at Totemoff's, the mid-mountain eatery. There is often music entertainment on the weekends throughout the season. Ski Santa Fe is the perfect spot for a family winter adventure and I hope to see you on the slopes!"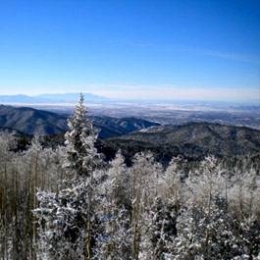 Now this might not be fun for many, but our General Manager, Sam Gerberding, really enjoys the mountain bike trails in the Santa Fe area. Here, he shares his thoughts on being out on the trails. "While others are out enjoying Ski Santa Fe or the network of cross country and snowshoeing trails, I love to take my bike out on Santa Fe's Dale Ball trail system, specifically the Sierra Del Norte trailhead off of Artist Road.
Naturally my gear changes to accommodate the temperature and change in terrain, but the overall experience are perfect, with some added perks. Admittedly, the first few minutes are chilly, but once my core starts to warm up and my breathing deepens I settle into a comfortable temperature that serves a fresh departure from the heat that comes with a summer ride. The winter ride provides a vacant trail system, which has makes for a most blissful ride, especially when snow blankets the trees and trail, muting the sounds all around. The birds are gone, the occasional cicadas are tucked away, and the sound of your tires on the trail changes to a quiet crunch. The rabbits abound in their color-changing coats and I've occasionally seen a fox or deer flitting about in the trees as I ride. Once, years ago, I spotted an owl resting on a branch just off the rail.
Riding on snow also provides a great exercise in fine tuning your technique – the approach to corners changes; gear choices are different at times than summer riding as can be your seat position. All this leads to the crest where you get to look out over Santa Fe and across to the Jemez Mountains – a truly worthwhile reward. The downhill isn't quite the same – a more cautious approach is warranted since ice may lie under the snow and in the shadows – fortunately the wind chill keeps your "need for speed" at bay.
So if you are a bit of a diehard cyclist (or a bit crazy depending on the perspective), I encourage you to consider breaking from winter tradition and trying out our trail system as it rests under the cold air and occasional blanket of snow. Local bike shops like Broken Spoke and Mellow Velo can rent you a bike and help you find the right gear.
Whatever you choose, we know that you will enjoy playing in our backyard during the winter months and we look forward to you visiting. We wish you safe travels. Deb, Lisa and Sam from the Inn of the Governors