Picture this – your strolling under the cool, clear night sky with a friend, a loved one, or just your sense of culinary adventure – the stars looking down as you approach one of the many eateries featured in Santa Fe's Restaurant Week. The doors open, greeting you with warm air peppered with smells of chile, locally raised meats seasoned from herbs and spices raised on family farms – lamb, pork, chicken – cilantro, garlic, onions, basil, mint – all combined with the Chef's signature styles. New Mexican Fusion or Continental or French Provincial or Italian, almost any food you can think of wrapped in the intimate settings of Santa Fe's eclectic architecture and styles. You'll experience old adobe homes, modern and austere urban settings, and the hidden gems sandwiched between generic retail shops in out of the way places. Regardless, the boutique, specialty approach of each restaurant will provide a memorable, distinct meal indicative of the City Different's overall culture.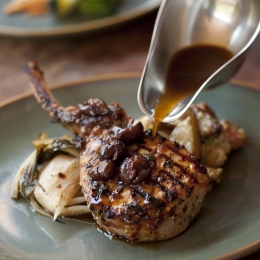 The event celebrates its 9th year February 18 – 25 with discounted multi-course meals (for $15, $25, $35, or $45 per person) and fun daytime events that will expand your cooking repertoire. Visit www.santafe.nmrestaurantweek.com. It's a great opportunity to try our world-class cuisine during a time of year that affords lower rates for lodging as well. Our weather is, well, a reflection of Mother Nature's whims so you may question your calendar when you feel late Spring air on your skin, or you may need to cuddle together as you skirt back to your toasty room-maybe with a crackling fireplace.
The restaurant list is extensive, but a few notables include L'Olivier, Il Piatto, Dinner for Two, and Joseph's Culinary Pub, all of whom have been featured in the Inn of the Governors' restaurant blog.
We hope to see you and hear your reviews of this growing Santa Fe tradition. Bon Appetit! SamG of the IOG
This blog was originally posted in 2016 and updated for current events.