The city of Santa Fe sits at an elevation of 7200' and our October temperatures range from an average high of 66 degrees to an average low of 35 degrees. Cool days lead to brisk evenings making you wish you had brought more layers to keep the chill at bay. So bundle up and experience the autumnal weather; my favorite time of year.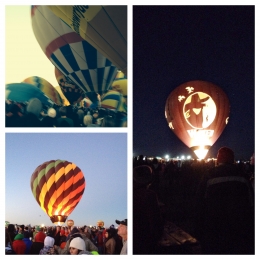 The First two weekends of October (5th – 13th) serve as the dates for the annual Albuquerque Balloon Fiesta. Just a 70 minute drive (mind the early morning traffic delays if you leave late) from Santa Fe or you can take the shuttle from Santa Fe and leave the early morning drive to the professionals. Advance tickets are required for the shuttle and do not include your tickets into the Balloon Fiesta Park. Be ready to be amazed at the varieties of hot air balloons and the rainbow of colors. It's one to check off your bucket list, if you haven't been.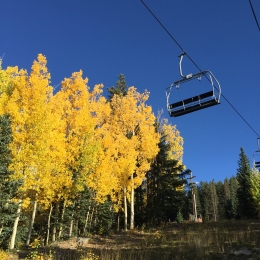 Now is the time to see the aspens in their full, golden glory on your way to the Santa Fe Ski Area. You can hike Aspen Vista first and see the beauty of these trees, or continue to the Ski Hill where these events will be taking place the first two weekends of October. Ski lift rides, music and other activities will keep you entertained for the whole day. My preference is the forest bathing (taking in the forest) on Aspen Vista. I enjoy the quietude of the trail and the meandering through the trees. You choose which would be best for you.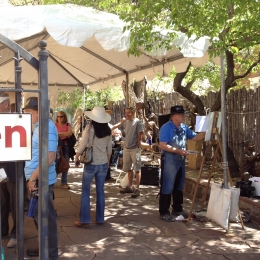 The 12th Annual Historic Canyon Road Paint and Sculpt Out takes place the weekend of October 18 on the famous Canyon Road near downtown Santa Fe. Artists will be working in various genre and media in the open air outside of the galleries. Vibrant colors or subdued hues will be marked by the artists' choice for the day. Stroll along and watch them create before your eyes and maybe you'll find something that will become your new treasure to bring home.
These are just a few of my favorite things to do in Santa Fe in October. We really couldn't list them all, but here is a link to the "must see events" on Santafe.org that we think you might enjoy, as well.
I would love to hear about your travels and hope you'll share photos of your time spent in Santa Fe and at the Inn on our Facebook or Instagram pages. Don't forget to #innofthegovernors or check-in when sharing your photos.
Safe travels. Deb Swanson /DOSM