We look forward to the annual Santa Fe Studio Tour, now in its 13th year and beginning this weekend.
The Santa Fe Studio Tour began with a grass roots effort by local Santa Fe artists who opened their studios in June and in November each year. A few years later around 2009 it was decided to have the Tour once a year in an effort to support and grow the exposure of studio artists in Santa Fe; and since there were already many other Studio Tours in the neighboring communities, yet not in Santa Fe itself, it seemed like the next logical step. The idea was to feature local artists and give the public a glimpse of how artwork was produced and then become a showcase for each participating artist.
The Tour is a "vibrant intimate immersion in art where visitors can interact with the artists, experience their working environments and add to their collection, all while enjoying the landscape of New Mexico, touring from one studio to the next!" I am very excited to see the tour this year! Here is the link to their tour, but I thought I would share the events here, as well.
The 2019 Santa Fe Studio Tour kicks off early this year with the following events:
Opening reception from 5pm-8pm at the Santa Fe Woman's Club (1616 Old Pecos Trail, Santa Fe, NM 87505);
Preview Gallery at the Santa Fe Woman's Club (1616 Old Pecos Trail, Santa Fe, NM 87505), Saturday, June 15th and Sunday, June 16th from 11am-4pm;
Here's some helpful information for the artist's studio tours, too.
Santa Fe Studio Tour is self-guided and free to the public;
Artist Studios Open for Tour 10 am - 5 pm on Saturday and Sunday - June 22 & 23 and 29 & 30;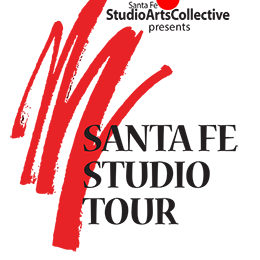 Create your own Studio Tour by choosing the artists you want to visit, identify their studio numbers and circle them on the map. Use your smart phone, or visit their Google Maps page. While driving, be on the lookout for Santa Fe Studio Tour signs to help guide you to participating studio locations.
Let's hope you have more time for more than just one event and let's set this in our calendars for our annual events "must attend" list for Santa Fe.
Safe travels, Deb Swanson