As the countdown to Christmas nears, our hearts look forward to the traditional foods and events of Christmas Eve in New Mexico. Christmas day is all about family but for many of us in Santa Fe, Christmas Eve is all about being out and around town seeing and being seen by friends, both new and old. And, the New Year's Eve presents a time of gathering to ring in the New Year with all.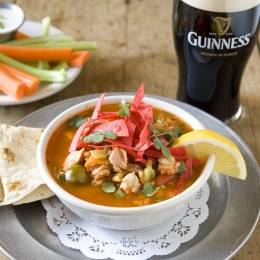 If you grew up in the City Different, there are many fond memories of filling your tummies full of spicy Posole, pouring your to-go cups full of hot chocolate or cider, and bundling up for a very special night. Posole is a soup or stew made with hominy corn, chile and flavorful seasonings and is a Christmas tradition in many of our homes. Whether you make it at home or enjoy it at one of the many restaurants that serve this New Mexico favorite, like our very own Del Charro, it is the perfect food to warm your soul for the cold winter night.
Once you are full of good food (and definitely good cheer) you dress in your warmest clothes and head to Canyon Road where you are sure to bump into someone you know. Friends that you haven't seen in years to new friends made in the magic of the season; there is always a friend around every corner. Just after dusk, the lanterns made of brown paper bags, a votive candle and sand, light up with a lovely glow. There is some debate about the name of these little bags of light, to some they are "luminarias" but to New Mexicans they are "farolitos". No matter what you call them, they are a lovely sight when lined up along the street and adorning the tops of the houses and galleries along Canyon Road. You stroll along with your loved ones, sipping on hot cocoa, stopping by the small bonfires singing carols and enjoying the kinship of those you know or meet along the way. This is the truest sense of community.
For the very adventurous souls, looking for something culturally unique to New Mexico on December 25th, it is truly worth the hour and a half drive to the Taos Pueblo for their very special Christmas Day Dance ( Deer or Matchinas Dance). Their schedule shows this year's dances will take place from 1pm-4pm. Taos Pueblo is the only living Native American community designated as a National Historic Landmark. The pueblo offers a door to the past with multi-storied adobe buildings that have been continuously inhabited for over 1000 years and have a spectacular view of the mountains. Share in the experience of this beautiful tradition and please be respectful of the pueblo's rules of etiquette so that many can continue to enjoy this holiday event for years to come.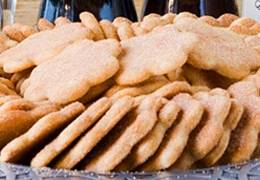 This year marks the third celebration of New Year's Eve on the Santa Fe Plaza. What better way to say "adios" to 2017 but by listening to local bands, sipping hot chocolate and eating the traditional biscochito. The Kiwanis Club will have a memorial banner for all to write down their hopes and dreams for 2018. As we look towards the New Year, we will end the evening with festive fireworks, age-old songs of Auld Lang Syne and Las Mananitas in a spirit of unity for a prosperous, safe 2018.
This is our wish for you and yours from our Inn of the Governors family. We hope to see you soon. Safe travels, Deb Swanson.