"The true beauty of music is that it connects people. It carries a message, and we, the musicians, are the messengers." Roy Ayers
So true! Think of the times that you listen to a song and your day just seems to fall away. The music fills the space that has a need to be forgotten or allows for your feelings to shift to a better and/or different place. Maybe you just need a break from the routine of your life and to shake off the doldrums of the day. What better way to do this but to attend any of the Santa Fe Bandstand summer events on the plaza or on the Southside Bandstand?
This is one of the best (and FREE) local, annual happenings in Santa Fe and is perfect for the whole family. Santa Fe Bandstand offers free music from June 19th through August 10th. Here's the link to their schedule so you can plan your escape for a fun-filled evening of foot tapping or body shaking rhythm. I love watching the community come out to dance and/or listen. If you aren't a dancer (that's okay), just tap your foot and enjoy the beat.
It all begins on June 19th at 6pm with Felix y Los Gatos. Enjoy this zydeco band as they celebrate their own take of a mixture of the region's cultural roots. At 7:15pm you can get your Swamp Funk dance music fix with the band, Shinyribs. Here's a great video, just to give you a taste. I can see you moving to the rhythm, already! Now imagine yourself on the plaza of downtown Santa Fe, swaying to the music with your friends and family.
So….. Maybe that's not your type of music? Not a problem. Santa Fe bandstand has a variety of music to choose from. Here's Billy D and The Hoodoos with a rock music and blues flavor on the 9th of July; or Edmar Castaneda with a unique take, playing his harp with a jazz incfluence on July 23. I think you see where I am going with this. The selection of music changes and you can certainly find what you love or maybe just something to broaden your musical experience.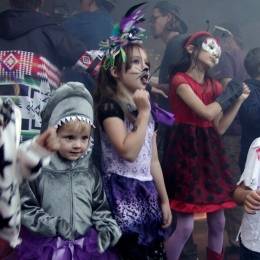 This year the return of the Meow Wolf Monster Battle party will be from 6pm-8:30pm on the plaza on June 28. "Calling all monsters, aliens, heroes, robots, villains and freaks! Assemble on the Santa Fe Plaza for the closing night and battle it out on the dance floor! Bring your foam swords, squirt guns, and crazy costumes. Meow Wolf continues their tradition of the spontaneous costumed flash mob party called MONSTER BATTLE. Dance to the mutant sounds of DJ Snaggy and Max P.F.F.P on a huge soundsystem. All ages are welcome!"
So, join us, move your body (or just tap your foot) to the rhythm of summer music and at the end of the evening; don't forget to stop in at Del Charro to quench your thirst and appetite. You'll have earned it.
Safe travels, Deb Swanson
This post has been updated from its original posting to include the current 2019 events.