Santa Fe boasts a tasty selection of restaurants of many flavors, ethnicities, and atmospheres. It takes a great deal to rise up above this sea of deliciousness and although many restaurants are not just good, but very good, only a few sit and linger on your mind like a good wine washing over your entire palate.
Paper Dosa, a Southern Indian Restaurant just outside of Santa Fe's downtown is such a restaurant. I hadn't even thought of going until a friend of mine suggested it for the Inn's restaurant blog. Until then it floated around my head without shape or context: Paper Dosa? What does that even mean? Southern Indian - how is that different than the ubiquitous Indian restaurant buffet? (answer – it's more tropical in its flavor, much less use of cream and butter, and it's served to your table) I'm sorry, do you mean I have to drive there versus walk? (answer - it's just a 10 minute drive from downtown and there is free parking all around them) My friend is a person with discriminating taste, and she enjoys unique flavors and a variety of ethnic foods. If she says it's worth a drive and worth stretching my imagination, I trust her.
Chef Paulraj and his wife, Nellie have hit such a needed chord that a typical night's wait to get in and have a meal is 15-20 minutes; the waiting area is a long, narrow hallway with a variety of chairs so you get to convene closely with the other soon to be patrons, bathing in the smells of spices, meats, and family tradition as they waft out past the host's station. Having to drool so close to a stranger is a bit humbling. Once in, the din of people chatting and sharing their meals permeates every corner of the interior. Singles or couples sitting at the bar watching the open kitchen, folks nestled in booths, groups gathered around tables in the central, open area all participate in the rattling sounds of happiness over a heartfelt meal, hand to mouth from their family to yours.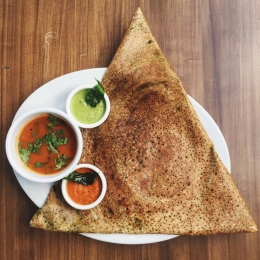 Admittedly, certain flavors and spices are "foreign" to me so describing them is not my forte. Knowing we needed to get a quick education, my wife and I ordered heftily via the Tasting Menu and a la carte: spicy basil dosa, green chile cheese dosa, cashew calamari, a kid's cheese dosa (a version of the classic grilled cheese sandwich), chettinad lamb pepper fry, kerala chicken curry, spicy mango salad, mango lassi (the house smoothie), and finally, locally made popsicles by Paleteria Oasis. The tasting menu offered four choices for three different courses, each paired with a wine for $50 per person. A la carte adds up to be more per item, but not profoundly so – the most expensive item on the entire menu is only $20. The portions per price for each item seemed "spot on" given my experience at different Santa Fe restaurants. By the end of the meal, we had three different to-go boxes to take home. Pro-tip for the parents of a picky kid – cheese dosa apparently is NOT a fair substitute for a grilled cheese sandwich – the menu does not have a lot of items that would fit the bill in that regard. The overall palate was one of curry, spices like cumin, coriander, just to name a few. These blanketed the meats, vegetables, and rices in ideal proportions – not drowning them at all. Truthfully, there is much more going on than what I just said, but I lack the ability to fully describe it. Please trust my summation that it is worth going and experiencing it yourself, especially if it is an unknown cuisine to you.
All that being said, the real beauty of Paper Dosa runs deeper than the food and atmosphere. As I mentioned above, good food abounds in Santa Fe. It takes more than balanced flavor, crisp service, refined seating areas, and a thoughtful wine list to stand apart. Knowing, as an example, that many of the recipes and techniques Chef Paulraj uses come directly from his mom draws me in even further, capturing my loyalty. Having met the Chef and his wife, Nellie, and their son - feeling the integration between their family and the restaurant – feeling the sense of gratitude and humility at their success flavors the food more than anything. Chef speaks with a sense of awe and surprise when he explains how some people drive all the way from Denver to eat at his restaurant and how some fellow in southern New Mexico also makes the trek strictly to dine there. He is almost dismissive of his talents as he says things like "I just want to be a good human who runs a business" and "I'm trying to make very proper food, no toning down – like my mom taught me." A recent video story on eater.com gives you a taste of Chef Paulraj's humility, a moment with his mom, and a visual of how a Dosa is actually made.
Ironically, his journey as a chef began as he moved away from India and lived in San Francisco and a few other places – a round about path back to the food of his heritage. Once in Santa Fe, he and Nellie started catering and doing weekly pop up dinners until finally they were able to open a restaurant proper in March of 2015. Now they have a moderate private room, a seasonal patio, the open kitchen, the dining area, multiple booths – the framework to serve their food and spirit to newbies like myself all the way to people who want to feel like they are eating in Southern India again.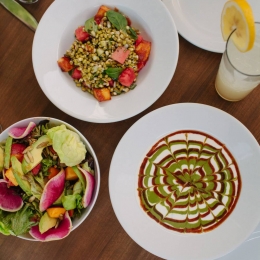 Paper Dosa is open Tuesday through Sunday from 5pm-9pm; Friday, Saturday, and Sunday being the busiest (expect up to a 40 minute wait on those nights). Most of the menu items are gluten free and many are vegetarian. Upon request, most can also be made vegan. They do not allow dogs on their patio – sorry folks. GPS finds them at 551 W Cordova Rd, Santa Fe, NM 87505, and your phone finds them at (505) 930-5521. You may peruse their menu at www.paper-dosa.com. Bon Apetit! Sam of the IOG