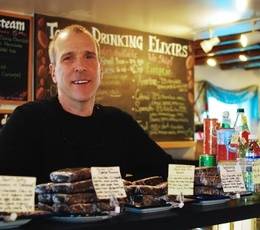 Most of the Inn's staff know that I am unabashedly addicted to chocolate. It's my go-to stress relief, my reward for a job well done (or done well enough to warrant chocolate), my comfort food, my stairway to heaven, my….well, you get the point. I wouldn't begin to say I'm an aficionado given in a pinch a cleverly disguised bar of wax with chocolate flavoring will do. I will say that I do know the difference between a waxy wannabe and the real stuff. In my humble opinion, no one in Santa Fe quite delivers the authentic goods like Tony Bennett (no, not that Tony Bennett) and his crew at Kakawa Chocolate House (pronounced ka-KAH-wa).
They're best known for their chocolate elixirs that are based on recipes they have created from historical sources; a form of palatable time traveling if you will. These recipes range from intense Mayan and Aztec recipes, historic European variations, and colonial American concoctions to delicious contemporary creations. Some examples are the house favorite – Kakawa's American, 72% dark chocolate with a hint of vanilla. It is gluten-free, dairy-free, and vegan (as are most of the elixirs). The Marie Antoinette elixir entices with dark chocolate, orange blossom and a hint of vanilla as does the Aztec Warrior – highly spiced and aromatic, it is 100% dark chocolate combined with a complex blend of herbs, flowers, nuts & chile. In total, there are sixteen elixirs to choose from to take home or eight off the daily rotating menu. If truffles are more to your taste, try the Goat Cheese and Sage truffle, the Cherry Chile truffle, Blueberry Basil, or the Key Lime Pie truffle. As you can see (and maybe taste), Kakawa's offerings are fit for the most discriminating cacao junkie's palate! If it is an old school chocolate pairing you crave, try the peanut butter bar, my quintessential go-to rain or shine – be forewarned, your relationship to Reeses will be forever tainted.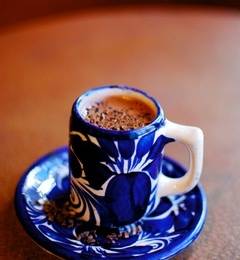 Since relocating to Santa Fe years ago from New Jersey, Tony has poured his heart and soul into this sweet venture. Since then, he and his team of chocolatiers produce and sell the chocolate in an old adobe home located just down from the historic Canyon Road's entrance on Paseo de Peralta. It's there that you can go in and peruse the dozens of chocolate confections, elixirs, ice creams, and other diet destroying treats. The good news is Canyon road starts at 7000 feet elevation and climbs for a mile uphill as you tour the galleries and old homes while burning off the calories.
Something that makes Tony's creations taste even better is how he takes pride in employing local high school and college students as part of his team. They eagerly explain, offer samples and serve the decadent offerings he has orchestrated. Because of this, the experience is refreshing and unique from start to finish.
So…if you've got the hankering for something light years better (can calories be measured in light years?) than a Hershey Bar, head on over to 1050 Paseo De Peralta here in Santa Fe. You can call 505.982.0388 or visit their website for more information or to place an order (yes, they ship!). They are open from 10am-6pm Monday through Saturday and Sunday 12pm-6pm to attend to your cravings. Bon Apetit! Sam of the IOG