I recently had a moment to dine at one of Santa Fe's newer Italian restaurants, Trattoria a Mano. They describe themselves as a neighborhood Italian spot, featuring a combination of northern and southern Italian cuisine, depending on the season. They opened roughly a year ago and quickly developed a reputation with our staff for having fabulous food at fair prices while taking great care of our guests. I decided it was time to try it myself. I got lucky one Monday afternoon when I wandered in right at five and found myself ahead of the dinner crowd, getting a corner seat with a full view of the place and complete attention of the staff.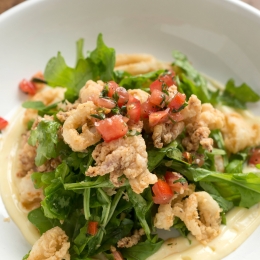 Ari greeted me cheerfully and immediately guided me through the menu, explaining her favorites as well as the most popular items. Rather than asking me to pick, she took the initiative and had the kitchen make an impromptu sample plate of the calamari fritti and the grilled octopus. Of course, I had no idea what wine I would get with those, so she yet again took charge (kindly) and paired one for me. I quickly learned that my trust in her was very well placed – the calamari refreshingly different than I have normally had and the octopus avoided the overall spongy nature it can have without being overcooked. The flavors were refreshingly rich without being brazen. This combination echoed through the meal: I savored the orechiette al sugo (fennel sausage, tomato, spinach, calabrian chile, pecorino sardo) as my entrée paired with robust red table wine, thoughtfully offered by Chris, the server. I finished my experience with the crostata di pinoli (pine nut tart `a la mode, lavender and crushed raspberries) for dessert that I coupled with a sherry (of course, right? It would be sacrilegious if I didn't). I have an incorrigible sweet tooth so you would think the dessert would be my fondest memory. It wasn't, at all. And, it was dang good. I was so delighted by the meal that preceded and the staff's enthusiasm for my experience that the dessert simply provided a balanced end to the meal versus overshadowing it.
From the beginning Trattoria spoke to me through both their cuisine and the spirit of their service. As I relaxed into the entree the finer points of the atmosphere settled over me. There were clear nods toward the Italian influence, but it was sprinkled within a more universal old-world charm. Antique bicycles greeted you as you entered, used as both art and furniture. The walls were a simple, soft white punctuated with wrought iron balcony facades. All of this was framed in dark wooden tones – the tables, chairs, wall trim, and ceiling. Although the kitchen is open, the behind the scenes noises stay respectfully on the other side of the counter as to not interrupt the quiet, European feeling music that punctuated the aesthetic for me.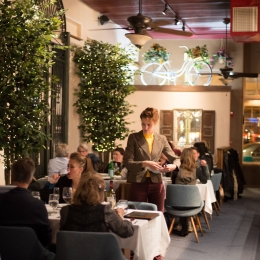 This combination of comfort, flavor, friendliness left me feeling sated and more than happy with the value. I'm lucky to work and live in a city that has amazing meals of all price points available within a stone's throw. I'm even luckier to have experienced many of them. And, I'm the luckiest of all to have enjoyed some of the more astonishing choices. Trattoria a Mano joins my two other favorites (Sazon and Paper Dosa) as one of my go-tos for a special occasion of guaranteed quality.
I'll finish by clarifying that I am by no means a vegetarian. I rely heavily on a vegan co-worker and around the town word of mouth opinions to help me guide folks to the less meaty side of Santa Fe. To that end I'd like to share a quote from a friend of a friend about Trattoria a Mano: "I went out to eat with a friend on Friday to Trattoria a Mano off the plaza. It was expensive but it was so, so, so yummy and the hostess and the cook and the waiter all came out and talked to me about vegan options and what they can do and what they could make. It was so delicious! They made pasta with mushrooms and shallots and asparagus in a white wine sauce - worth every penny."
Bon Appétit! Sam of the IOG