The history and evolution of coffee is rich and varied. Having been initially recognized in Ethiopia by a goat herder as a stimulant and then used by Sufi orders to help prayer vigils, coffee rapidly spread throughout the world as a staple part of our days. Its name comes from the same Arabic word qahwa meaning "to lessen one's desire for something" as well as "dark stuff"; the word was also used for wine. Whether it's our need to wake up, get more work done, wash down a pastry, or the hunger for warm hands on a cold morning, coffee is there for us. Of course, Santa Fe has its varied purveyors of varietals, espresso drinks, equipment, and atmosphere.
Admittedly, I have a deep, intimate relationship with coffee. I'm not sure "addicted" accurately describes it. Because of this, I've got the best coffee shops in Santa Fe (locally owned) mapped out so I may, at any moment, meet my needs no matter where I am. The list is actually much longer than one might think in Santa Fe, so I'll focus on a few that I truly believe showcase the depth and value of coffee, while providing an enjoyable atmosphere.
Santa Fe's longest standing coffee roaster, Ohori's Coffee, has two locations – one just off of St. Francis Blvd. and one located just 4 blocks away from the Inn, south along Galisteo Street. Started by Susan Ohori in the eighties, Ohori's quickly developed a local following with her deep, dark roasts – a sure way to get one's attention first thing in the morning.They were well ahead of the curve in promoting the varied flavors of coffee from around the world like Yemen Mocca Sonani, Sumatran, and Guatemala HueHuetenango. They also introduced Santa Fe to the wide range of ways to make coffee past the traditional Mr. Coffee machines. Their location on Galisteo St. has parking, a great selection of pastries, and a fun collection of devices, mugs, coffee accoutrements to peruse or purchase.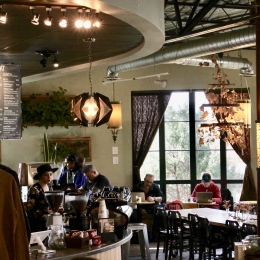 A more recent coffee roaster to the Santa Fe scene, Iconik Coffee, caters to folks with a taste for lighter roasting techniques, and an obsession with the perfect espresso drink. Their first location is off of Lena Street near the rail tracks – about a 15 minute drive away. Coupled with a unique food menu, eclectic customer base, and an energetic atmosphere, this location serves as a wonderful out of the way coffee oasis. I often found myself falling into a double cappuccino, omelet, and funky couch for hours on a Saturday morning. So it was much to my delight when they partnered with Collected Works (Santa Fe's longest standing independent bookstore) just two blocks away to provide the same coffee experience and atmosphere as the original. It's a quick 5 minute walk to the corner of Water Street and Galisteo from the Inn and a great start for your day or a picker upper after lunch. Once your appetite is increased, it's best to roam through Collected Works for some intellectual stimulation and the smell of words on real paper (one of my favorite things). And, now they have a new location just 4 blocks from the Inn at 314 S Guadalupe Street on the corner of Agua Fria. Very close to the Railyard Arts District and serving a great menu along with their signature brews.
Mangiamo Pronto is another coffee shop near me. Recognizing that the local roaster scene is well represented, Mangiamo focuses on bringing one of the original Italian coffees to the corner of Alameda and Old Santa Fe Trail. You can't miss the location with the red-bricked patio and the clean, well lighted atmosphere. They use LavAzza coffee for their "joe" and espresso drinks. If you are in the mood for a double dose of stimulation, try their Affogato – a scoop of gelato drizzled with espresso. In addition to the coffee, Mangiamo sells gelato, panini, pastas, pizzas, and salads. Rumor is they'll have wine and beer soon to provide a relaxing afternoon under the Santa Fe sky – fingers crossed; what a way to bring the word coffee's origination full circle.
These three are just a smattering of our fair city's options, all within a short walk of the Inn and serving up their own way to meet our coffee achiever needs. For sake of respecting all the caffeine possibilities in town, I've put together a list of other recommended coffee shops and tea houses worth visiting as you gallivant around (in no particular order):
Caveman Coffee - Located in the Baca Arts District is a coffee shop, smoothie bar and tap room. Enjoy a warm, cozy study space and choose from an array of games including billiards, foosball, scrabble, chess, and monopoly.
Java Joe's - Their mission is simple: serve locally roasted coffee, delicious baked goods, and provide a relaxing environment. Visit them after experiencing Meow Wolf when searching for "coffee near me".
Betterday - Featuring talented baristas in an urban environment. Their coffee and espresso beans are imported daily from Stumptown Roasters. Chosen for their quality and ethics, they source coffee from select small farms and co-ops, and make investments in the communities of their growers. Located in the New Solana Shopping Center next to La Montanita Co-op.
Ecco - Located next to our library offering gelato, grab-n-go, and espresso.
Sky Coffee - Just across the tracks from Violet Crown Cinema, also serving Iconik's freshly roasted beans in addition to Ruby coffee (a roaster out of Wisconsin).
The Good Stuff - Opening at 11 each day, it's a lunch/afternoon coffee house experience melded with a collection of used and new records for your perusal – on the corner of Guadalupe St. and San Francisco.
The Travel Bug - Selling maps (thinking of hiking in Santa Fe?), travel guides, luggage, and café food over on Paseo de Peralta between East Alameda St. and Palace Ave.
AND......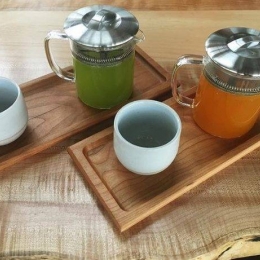 The Teahouse - Near the top of Canyon Road, specializing in tea as the name suggests. They also provide coffee drinks and an eclectic food menu (think vegan and gluten-free options) – a great way to pause as you make your way along Canyon Road enjoying art galleries and local shops.
Opuntia - A tea house, yummy coffee, café, and plant gallery. Yes, a café full of "botanical curiosities". Located in the Baca Street Railyard District.