"Should you shield the canyons from the windstorms you would never see the true beauty of their carvings". Elisabeth Kubler-Ross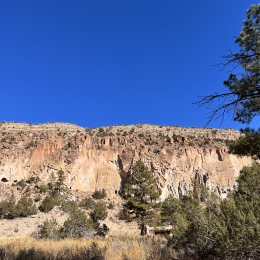 I find this such an accurate depiction of the canyons in Bandelier National Monument. When visiting the monument you have the opportunity to walk through the historical communal village of the early ancestral pueblo Indians; see the erosion of time, wind and water on the mesa tops; and learn of the multi-cultural ties to this space.
There are many ways to spend a half or full day here and I recommend it for all ages. You can walk the Main Loop Trail (recommend purchasing the $2 trail guide at the park store) and read the history of the 21 points of interest along the way. Ladders along the trail allow visitors to climb into cavates. Follow the trail past the Big Kiva, the Tyuony Talus House, and Long House. Half way through the main loop trail you will have to decide to continue a half mile further along the trail to the Alcove House or to return via the loop to the parking lot. Please be aware that access to the Alcove House is 140 feet in the air via ladders and the trail to the beginning of the ladders is in and out; you will return the same way you came.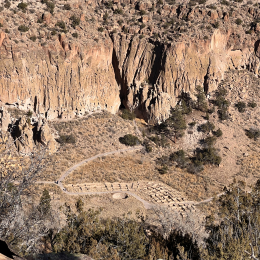 There are multiple trails for hiking which vary by degrees of easy to strenuous. Here is a link for shorter trails and here is one for longer trails. I recently spent 2 ½ hours hiking the Frijolito Trail and had lunch on the top of the mesa for an unobstructed view of the pueblo ruins. The trail is 2.5 miles long and we had a beautiful winter day to meander through the switchbacks to reach our lunch spot.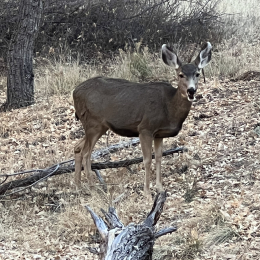 Bandelier National Monument is home to an ecologically diverse habitat. A variety of wildlife and plant diversity offer a possible sighting of even mule deer on your excursion.
Travel time from the Inn – approximately one hour
Be prepared – comfortable shoes, sun protection and water to stay hydrated
Be aware of the weather – dress in layers
Share your experience – Facebook or Instagram
Safe travels, Deb Swanson Dir. Of Sales & Marketing