Day Trips
New Mexico has 26 Scenic Byways ranging from 4 to more than 600 miles. There is an astounding variety of geography, diverse cultures, fascinating history, and recreational opportunities along the 3,531 miles of scenic road. For a complete listing with directions and maps click here.
One day to and from Santa Fe:
Time: About one hour.
Location: Ojo Caliente
Website
Phone: 888-939-0007
Ojo Caliente Mineral Springs & Spa
Just one hour's drive north of the Inn is the Ojo Caliente Mineral Springs & Spa. This unique destination has been offering authentic guest experiences that have been healing mind, body and spirit naturally for centuries. Soak in their legendary hot springs or enjoy the outdoor mud bath, rejuvenate with custom spa treatments, or explore their hiking and biking trails on 1,100 breathtaking acres. Ojo Caliente is the only hot springs in the world with four different types of mineral water including lithia, iron, soda and arsenic. Their twelve pools are filled with different types and combinations of these waters, with temperatures ranging from 80-109 degrees. We encourage you to dine in the Artesian Restaurant located adjacent to the springs. The culinary team blends local flavors with global cuisine to create a tasty menu; with many of their vegetables being grown in their own Ojo Farm. You might also enjoy their local property, Ojo Santa Fe, located about 20 minutes from downtown Santa Fe and the Inn.
Time: About one hour.
Cost: No cost—just a glass jar that takes donations.
Location: Embudo
Phone: 505-852-2995
Johnny Meier's Classic Gas Museum
Johnny Meier's ad-hoc, two-acre ode to automobile Americana is a seemingly messy smorgasbord of early-to-mid-20th-century gas pumps, road signs, neon signs, oil cans, soda machines, bottle caps, some rusted old cars and trucks, an iconic Big Boy statue, and even a roadside diner (complete with outside tables). It catches your eye no matter how fast you may be going; and only seemingly messy, until you get out and see how organized it all is. This is Wall-E come to still life. Whether or not Meier's there to give you a tour, this miniature outdoor Smithsonian exhibit, run entirely on donations and just a stone's throw from the Rio Grande River, is like stepping into an Edward Hopper painting. Only not at all depressing and wonderfully fascinating.
Time: About two hours.
Cost: $150
Location: Angel Fire
Website
Phone: 844-218-410
Angel Fire Zipline + Mountain Biking
I could regale you with the great views I saw while ripping through the air on a thin metal cable. I could boast about being 8,600 feet up, with views of Mt. Wheeler, the tallest peak in New Mexico, right in front of me while tearing through the treelines of this all-season alpine resort town high above the Moreno Valley. Or I could talk about how quickly it all went. Not just the 120-foot-long line but the 1,600-foot-long zipline. But then I'd be lying. A tried-and-true acrophobe, I kept my eyes shut the entire way, on every zipline, no matter how short—and no matter how short the shortest zip, they all felt like an eternity. Probably an altogether different experience for those unafraid of heights, the Angel Fire Resort Zipline Adventure Tour takes about three hours (the non-zip time consisting of a more peaceful, scenic trek getting to the next line). I've been told it's fun.
Time: About two hours.
Cost: $50-$155 depending on ages and destination.
Location: Chama
Website
Phone: 866-286-2737
Cumbres + Toltec Scenic Railway
If you love riding on trains, not commuter trains but trains that kinda go nowhere—only slowly, meanderingly, time extended and played out with you sitting there captive with nothing to do but revel in what's outside the window—you will become addicted to the Cumbres & Toltec Scenic Railroad. Built in 1881, the C&T is 64 miles of narrow-gauge railroad that takes you through the Rocky Mountains on the border between New Mexico and Colorado. It's olde-timey, it's visually stunning, it's womblike, it's historic, it's a little like bowling or Putt-Putt: you do it once a year and have the time of your life, or you love doing it no matter what and you're pretty much a regular. Either way, it's worth it. Whether you go on a full-day or a half-day excursion. The train leaves from Chama, which is a scenic two-hour drive from Santa Fe and is open during the summer and fall seasons.
Time: About two hours.
Cost: $5 per vehicle; $8-18 for camping, depending on site
Location: Heron Lake State Park
Website
Phone: 575-588-7470
Heron Lake
Another leisurely activity near Chama (just ten miles south) is Heron Lake State Park—one of only a handful of no-wake lakes in New Mexico (meaning, motorboats are allowed but they can go no faster than trolling speed—so as not to create a wake). That makes it great for kayaking, paddle crafting, windsurfing, and sailing. But most of all, fishing. Fishing as it used to be. Where time slows down, nothing's there to weigh you down—or even if there is, there's nothing you can do about it out there, so just Zen out and enjoy it. Even when the lake's run amok with windsurfers and sailors, you'll likely find a spot you can have to yourself—probably near the swallows' nests along the cliff face near the dam. I have yet to snag a record-size trout or kokanee salmon—that's almost beside the point. If the fishing gets overwhelmingly underwhelming, head up to the five-and-a-half mile hiking trail that crosses the Rio Chama Gorge—over a pedestrian suspension bridge. That'll get you going.
Jemez Mountain Trail - Approximately 160 miles round trip.
Follow US 84/285 north to Pojoaque, then NM 502 west toward Los Alamos. You may wish to stop at the San Ildefonso Pueblo. Across the river on NM 30 is Santa Clara Pueblo. Continue on NM 4 to Bandelier National Monument featuring Indian ruins in two locations, and then into Los Alamos. You can stop at the Bradbury Science Museum to learn about World War II's Manhattan project. Follow NM 4 into the Jemez Mountains, and exit along the Jemez River Canyon to view waterfalls and sheer rock faces. Attractions in Jemez include full restaurants and services, Jemez Springs public springs, the Jemez State Monument, and the Jemez Pueblo Walatowa Visitor Center. Leave NM 4 when it dead-ends into NM 44 at San Ysidro and head south to Bernalillo. You may wish to stop at the Coronado State Monument. Take I-25 north to return to Santa Fe.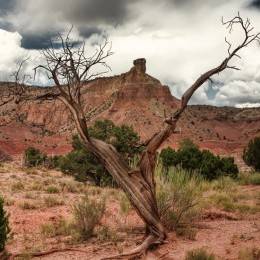 O'Keeffe Country - Approximately 250 miles round trip.
Take US 84/285 north, then onto 84 near Espanola. Follow the Chama river toward Ghost Ranch. Nearby attractions include Abiquiu Lake, the Echo Amphitheater, and further up Us 84 in Los Ojos the showroom of Tierra Wools. Nearby are the Heron Lake and Brazos River. The Cumbres & Toltec Scenic Railroad is in Chama. To return to Santa Fe, take US 64 east from Tierra Amarilla to Taos. You will wind through the San Juan Range and decend to the Rio Grande Gorge Bridge. US 64 is devoid of services and sometimes closed in winter. You may wish to spend time in Taos before returning to Santa Fe on US 68 south along the Rio Grande to Espanola. From Espanola, take US 84/285 south into Santa Fe.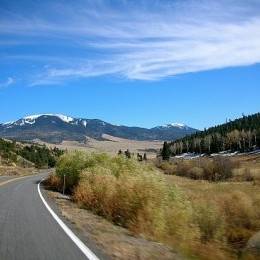 Taos Circle - Approximately 165 miles round trip.
Follow US 84/285 north along the Sangre de Cristo Mountain and Valley towns through Espanola. Take US 68 to San Juan Pueblo. North of the Pueblo are farmlands offering seasonal fruits and vegetables. Above Velarde the Rio Grande enters a narrow canyon. Embudo is a historic railroad stop. Stop in Taos to enjoy galleries, shops, and restaurants. Visit the Taos Pueblo just outside of Taos. Return to Santa Fe via the "High Road" (limited services) where NM 518 intersects US 68 at Ranchos de Taos. Near the Picuris Pueblo take NM 75 west and then NM 76 heading south. Attractions along this route include the Spanish colonial church at Las Trampas, Galleries featuring pottery, quilts, rugs, and wood carvings. When you reach Chimayo, you may wish to see the famous Santuario de Chimayo (off a well-marked side road). Return to Santa Fe via NM 76 turning South at Espanola on US 84/285 or turn South at Pojoaque on NM 503 (Nambe Falls is a short side trip).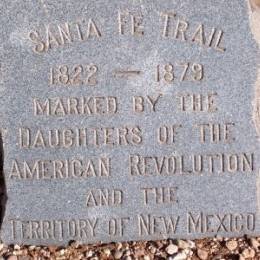 Santa Fe Trail - Approximately 186 miles round trip
Take I-25 Northeast through Glorietta pass. Exit at the Pecos National Historical park to view Pecos Pueblo ruins and a Spanish mission church. The Pecos wilderness to the north is ideal for fishing. Leave I-25 at Las Vegas (NM). Attractions include period architecture, antique stores, restaurants and services, and the Rough Rider Museum. Take NM 518 north to Storrie Lake offering fishing, boating, and windsurfing. NM 518 winds into tall mountains which you cross before taking NM 75 decending to Penasco. Take NM 76 back to US 85/285 and South to Santa Fe.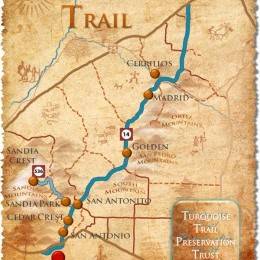 Turquoise Trail - Approximately 150 miles round trip.
Head South from Santa Fe on NM 14 to the village of Cerrillos and then Madrid. There is a main street featuring galleries, studios, shops, and the Old Coal Mine Museum. Continue through Golden to San Antonito. Take NM 536 through the Sandia Mountains to Sandia Crest (Ten thousand foot view of Albuquerque and the Rio Grande Valley). Next take NM 14 south to I-40 and head east to NM 41. Join US 285 near Lamy and then I-25 back to Santa Fe.

Santa Fe Selection Travel Guide is an excellent resource to help you plan your stay and access the best of the authentic Santa Fe experience; Top Things to Do, Tours, Day Trips, Pueblo Feast Days, Unique Shopping, Favorite Restaurants, Museums, Annual Events and more.
Things to See and Do in Santa Fe!
Sign up for our eNewsletter and also be the first to hear about special promotions.