One of my favorite things to do when traveling is experiencing local cuisine. Now, that could be dining in a "farm to table" restaurant, visiting the local farmer's market or even taking a local cooking class. Lucky for you, The Santa Fe School of Cooking has been doing classes since 1989 and we are offering a package which includes their Tuesday demonstration classes.
Demonstration classes take place at 10am on Tuesdays and vary "by flavor" depending on the date you would be visiting. You will get to observe the chef preparing each of the menu items while giving you special tips about the recipes. The big plus is that you get to eat all the food they make and take the recipes home with you!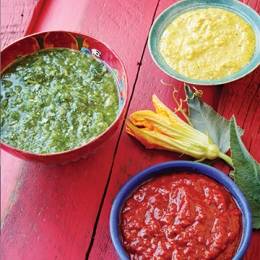 Maybe you would like to try the March 27 Traditional Class. This class includes flour tortillas, carne adovada (red chile marinated pork), chiles rellenos, callabacitas (green chile, squash, corn), refritos, and sopapillas (what I refer to as little puffs of heaven)! Oh my.... That sounds pretty darn good. Or, maybe you would prefer to find out how to make the elusive "mole". Try the April 17th Mole and More and you will learn to make smoked chicken with mole, perfect protein salad, arroz verde, chile glazed carrots and onions, and Mexican chocolate with a raspberry glaze. These aren't the only options so be sure to check the calendar at the school and see what suits your tastes.
We are currently offering the package through April 30th. Although, they do have a boot camp the week of February 4th, so no classes for our package are available at that time. You must call the Inn directly at 800-234-4534 or 505-982-4333 to book the package and receive the 20% discount on the class. We require a two night minimum and our guests can stay Sunday and Monday or over Monday and Tuesday. Staying longer, not a problem! We can offer the package as long as you stay over the days listed above.
As always, we look forward to welcoming you to the Inn.
Safe travels, Deb Swanson