Exploring Santa Fe – Part 3
We are so happy to share with you that more of Santa Fe is opening up for those who would like to travel to "the city different".
On September 3, the museums were given the "go ahead" to reopen with static exhibits and 25% occupancy. Some of these museums have opened and others will be opening soon. Here is the list and their links so that you can plan your timed entries or plan for those opening a little later:
Wheelwright Museum is located at Museum Hill and is a real favorite of hours for unique Native American art and jewelry. Don't forget to see the collection in their gift shop – the Case Trading Post.
SITE Santa Fe has been committed to supporting new developments in contemporary art, encouraging artistic exploration, and expanding traditional museum experiences. Just a short 4 block walk from the Inn.
Opening September 16, the MOCNA (Museum of Contemporary Native Arts) located across from the St. Francis Basillica and is our country's only museum for exhibiting, collecting, and interpreting the most progressive work of contemporary Native artists. A must see when visiting Santa Fe.
Our next museum, the Georgia O'Keeffe is opening on September 25. Even if you have been to the museum on prior visits, please take another tour as they rotate the exhibits and add works of her contemporaries, too.
The New Mexico State Museums are opening as of September 24, so keep an eye on their websites so you can plan your trip the days there are open. Here are the links for each - New Mexico History Museum, New Mexico Museum of Art, Museum of International Folk Art, and the Museum of Indian Arts and Culture.
We also recommend the Museum of Spanish Colonial Art that remains closed at this time. Here is their link for further information.
Are you unable to travel at this time and missing Santa Fe? We think these ongoing virtual events might help to ease your pain…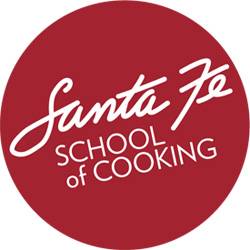 Santa Fe School of Cooking – we love these classes that help bring the "taste of Santa Fe" to your home. If you can't find the ingredients in your home state, be sure to order directly from the school to enjoy the whole experience.
Many of the galleries are offering virtual gallery openings and one of our favorites is Ventana Fine Art. Here is a link to their events. Do you have a favorite gallery in Santa Fe? We would love to know so that we can share their information on our Facebook page.
Santa Fe Art Tours brings the artist and their studio to you, in your home. This is such a unique way to stay connected to artists who continue to create in unusual times.
We love this time of year for enjoying our outdoors. You can be in our beautiful mountain in 15-30 minutes and be hiking the trails on your own or with our favorite tour guides.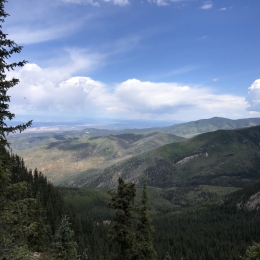 Outspire Hiking and Snowshoeing is our local geologist, Scott Renbarger whose wealth of knowledge is the perfect way to hike and understand the beautiful Santa Fe area. The Santa Fe Mountain Adventures offers multiple tour options for those who would like to see the outdoors in a jeep, on bike or just for a hike. Please contact each operator for current restrictions.
Galleries, shops, and gardens continue to be open to those who wear a mask and social distance.
Interested in Exploring Santa Fe Part 1 and Part 2? I've included the links for you.
Please remember that by booking directly with the Inn, you receive our full Mountain Sunrise breakfast, free parking & wi-fi, sherry and biscochitos hour at 4pm and a $15 food and beverage credit to our Del Charro restaurant.
We continue to follow all COVID safe practices and are NM Safe Certified and look forward to you staying with us… your home in the heart of Santa Fe.
Wishing you and yours good health and safe travels. Deb Swanson/Dir. of Sales and Marketing